As a young girl, Santa Cruz was our weekend family getaway many times out of the year. So much that many of the memories made growing up happened here. Memories of heavy fogged early morning seashell hunts with my dad. Memories of the house we used to rent across the street from Kong's Market where they sold (and STILL sell) THE most amazing lumpia on the planet. Memories of riding the carousel over and over and over again in the hopes that my aim would be so accurate as to land my silver ring in the clown's mouth and make that victorious ringing sound. Memories of never being tall enough to ride the Big Dipper until my dad bought me a pair of 2 inch cowboy boots that finally hoisted me over the height limit and beginning a lifetime of roller coaster obsessions. When I lost my dad just after college, going back to Santa Cruz has always been difficult. It's been as if I've cheating on him by being there without him. Smelling the musty salt air and breathing in the moistness of the morning marine layer. Laughing with the crashing of the waves while letting the sand run through my toes. Strolling the boldly lit Boardwalk in search of the shortest line to catch a 20 second thrill. This time was different though. This time was a combination of the sadness of him not being with me battling with the happiness of exposing my kids to the wonders he created for me as a child. Seeing the joy and excitement through their eyes the same way he saw it in mine when I was young. I hope to expose my kids to this area the same way my dad did for me in the hopes that they will someday take away happy memories of a place so near and dear to my heart. Sorry for the completely sappy post…I wasn't intending on pouring my soul out when I began typing.
But since I did, here's a little trip down memory lane…35 years ago to be exact. Some old shots of me and my dad in Santa Cruz. Didn't even try to restore them…they are perfect just the way they are.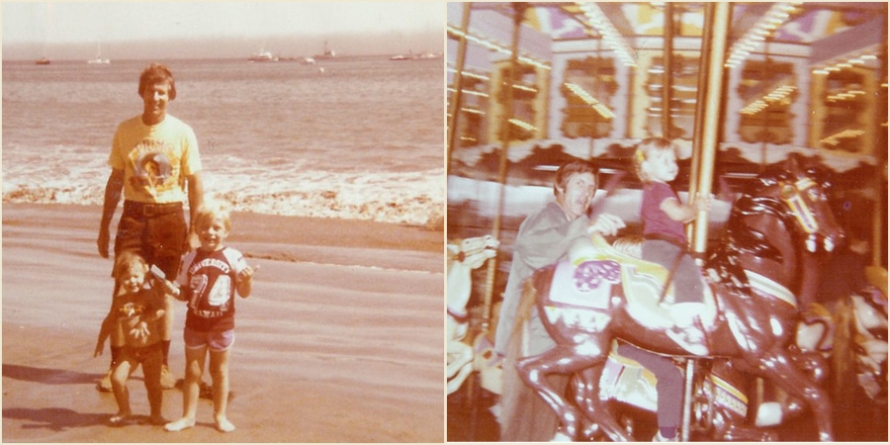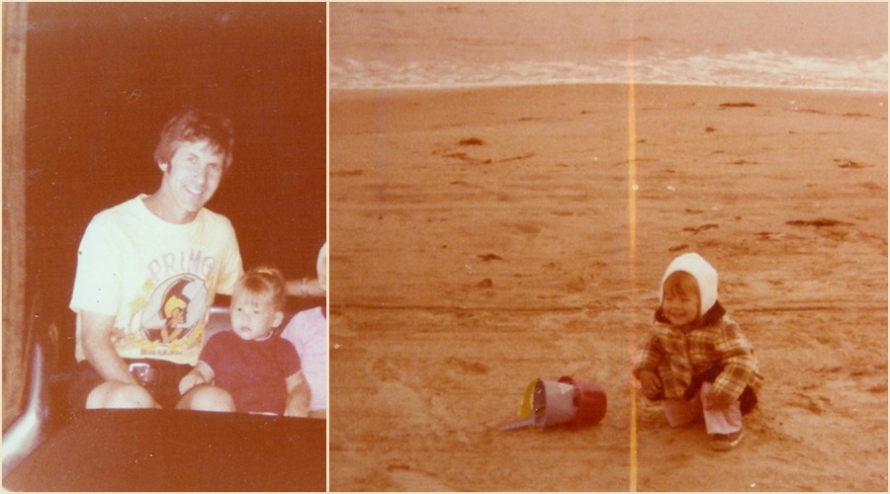 This image was taken right when he found out he had Hodgkins disease. I don't know how he's smiling with cancer looming in his mind but I think it has something to do with me in his arms. My babies always make me smile no matter how bad things are. Luckily he lived to see me graduate from college.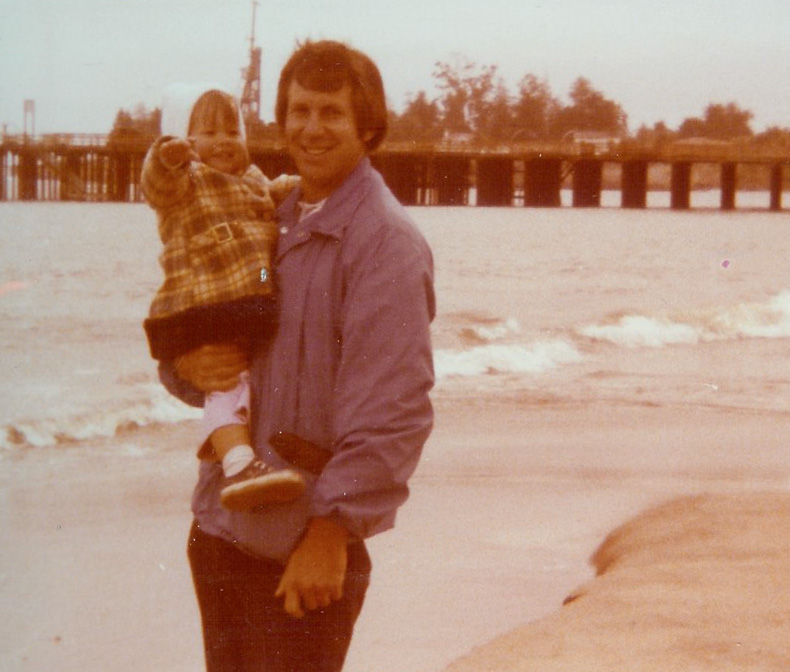 Fast forward 35+ years. My mom joined us in this trip down memory lane. We stayed at this adorable little hotel called the Ocean Echo and within steps of it was this little hidden beach. It was perfect.



We made a little jaunt to Felton to the Roaring Camp Railroads for a "Day with Thomas" since E is still massively obsessed with trains. He even got to meet Sir Tophamm Hatt!



The place where my childhood dreams came true. Santa Cruz Beach Boardwalk.

Thrills for everyone! Yes, eating food does count as a thrill for B.

My favorite picture of my mom and my daughter.


This is what I get when I try to be in a pic with my babies. Avoidance.

There it is! The ride that turned me into a coaster nut! The sky was seriously incredible this evening so prepare for a lot of big sky shots. Every time we turned to face a different direction or the sun set a little more, it became more and more dramatic. It made me feel as it my dad was up there behind all that beauty showing us that he was there.

See what I mean about the sky? Cloud heaven!

This pic was NOT enhanced in post. It really looked this way. Seriously. I have witnesses.

Doesn't the sky here look like it's fake…indoors? This ride used to be called The Cave Train when I was little. It's still in service but has been "upgraded" as a sign of the times. I really miss the scenes of the old cavemen guys passing poker cards under the table with their toes. They were my dad's favorite too.

Off to Capitola for some toes in the sand and boardwalk strolling.







And a few iPhone shots because I just can't get enough of it.

Can't wait to make this trip a part of our family tradition. This one's for you dad!